The Time is Now to Book These 7 Travel Bucket List Trips for 2022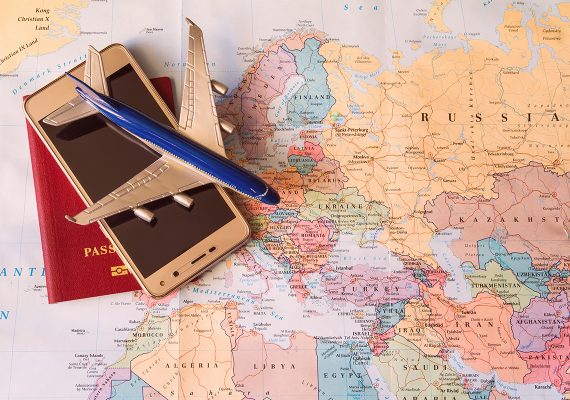 After a whole year of staying at home and dreaming of seeing the world again, so many travelers are ready to book again…and they have. Post-pandemic we have seen an unprecedented number of rebookings for a year or 2 years in advance. It is clearly evident that as the pandemic wanes, demand for travel is skyrocketing as many see the prices of flights surpassing pre-pandemic levels, home rentals and hotels being fully booked, and rental cars being found few and far between. All of this limited availability is due to the fact that those who missed out on their travel plans in 2019 and 2020 have rebooked these exotic destinations on top of new travelers who are itching to experience something new.
SO, WHAT DOES THAT MEAN FOR YOUR TRAVEL BUCKET LIST?
If you are a traveler looking to cross things off your travel bucket list, you've come to the right place. We are here to guide you and plan an exquisite trip no matter if you are trying to get in touch with the wilderness on an African safari or experience a winter wonderland in an igloo under the aurora borealis. We are here for you to bounce ideas off us as we navigate limited availability to ultimately plan an unforgettable trip for you 12-24 months in advance.
To help you on this journey, here are our 7 picks from all around the world for you to explore.
1.Africa: Rwandan Gorilla Trekking
It's easy to understand that after months sitting inside, being outside in the wilderness among the trees, animals, and plants is incredibly compelling. If you are looking for a unique itinerary to bring you up close to some of the most fascinating animals in the world, you'll want to visit Rwanda. Home to the nearly 1,000 of the largest primates on Earth, the gorilla, Rwanda offers an opportunity to see these animals in all their majesty in their natural habitat sustainably.
With ample time to plan, we can work with the comprehensive regulations regarding number of visitors to the natural habitat and time stayed to obtain limited gorilla permits. Additionally, we can secure the top lodges for our clients and experienced guides to assist our clients throughout the duration of their trip.
Our itinerary has our clients first landing in Kigali to be greeted by our partners on the ground for a transfer to One&Only Nyungwe House, an incredible property located on a working tea plantation. The resort is encapsulated with stunning greenery and jungle views for sights that you can only wake up to here. This resort is meticulous in their operations to offer carefully considered farm-to-table dining, an on site spa that exemplifies and embodies local traditions and cultures for a truly relaxing stay, and, of course, curated experiences to satisfy our client's natural instincts to explore.
Next, you'll head to the headline feature of this trip, the gorillas. You'll be transferred to One&Only Gorilla's Nest or Singita Kwitonda Lodge where you'll begin your hike through the Volcanoes National park to visit the gorilla families. After this immersive nature experience, you'll head out to visit the Kigali Genocide Memorial which commemorates the 1994 Rwandan genocide and learn about this history. As the last stop on your trip before heading out of Kigali, it's sure to leave a lasting impression in your mind and on your heart about this remarkable place.
2. Antarctica: Private Jet from Cape Town
There are typically two options to visit Antarctica. The most widely known option is to take a two-five-week cruise from the Argentinian Patagonia to visit this beautifully snowy continent. While some may have the time to engage in this comprehensive experience, we understand that our clients may need another shorter option to to reach the world's most remote continent. We are talking about a chance to charter a Gulfstream jet from Cape Town, South Africa to Antarctica for our clients to visit for just a few days.
This truly luxurious experience will take you over icebergs and other natural beauties for hours before landing in the Polar Circle. When you get there, you'll get on specially made traversing vehicles to take you through the icy plains to your state-of-the-art sleeping pods.
During your stay, you'll be able to engage in activities like treks and picnics that overlook ice waves and more intensive activities like ice climbing and kite-skating, truly things you could only do here. Along the way, you'll also have the chance to visit ice caves before heading all the way to the lowest point on Earth, the South Pole. To top it all off, you'll be able to make your fair share of emperor penguin friends and receive the rarest passport stamp ever before heading back to Cape Town.
3. Asia: Get in Touch with Your Mind, Body, and Spirit in Bhutan
Bhutan is one of the most special places on earth due to its cultural significance being the last stronghold of Mahayana Buddhism. If you've never been to Bhutan before, here's what you need to know: the culture and natural environments are immensely important, so the government mandates that all those who visit need a unique visa before entering. This is something that we can help you with if Bhutan is where you intend to go next.
The other thing to note is that Bhutan's Tourism Council upholds the values of the country's Gross National Happiness index and champions "High Value, Low Impact" travel. TO make sure that your trip is aligned with these values, it is best to plan this very special trip in advance.
The best way to fully experience Bhutan is to take your time and visit each of the 5 luxury lodges at Six Senses Bhutan through 2 weeks, but if time is pressing, you are able to customize your trip and choose the lodges that most pique your interest. Each of the 5 resorts are thoughtfully located in the mountains and valleys of the Kingdom and each reflect the unique surroundings around them. When you are there, you can choose how you'll be immersed into the spirituality of the place with different hikes, spas, and cuisine as you tap in to your own self-discovery. This serene place offers a calming escape from the bustles of everyday life with amazing hospitality and great cultural heritage.
4. Australia: Uluru
While Australia is a popular travel bucket list item, most people stick to the crowd favorites of Bondi Beach, Great Barrier Reef, and the Sydney Opera House. We think that most people miss out on the incredible discoveries they may find outside these tourist hotspots. We are talking about Uluru, one of the most sacred Aboriginal sites on the continent.
Also called "The Red Centre", this eye catching massive red sandstone monolith is located within the Uluru-Kata Tjuta National Park which offers extraordinary views of desert plains, weather tested mountain ranges which showcase the beauty of natural rock formations. There are 36 domes to visit spanning 7.7 miles. You can walk the easy Walpa Gorge Walk or commit to the four-hour Valley of the Wings Walk through the domes.
Here you can learn about the indigenous history native to this area and the cultural significance of Uluru. Additionally, you'll be immersed in the Australian traditions of storytelling as you speak to the local Indigeous people. Each morning you can rise to a stunning sunrise and at night you can experience the critically acclaimed exhibition of Field of Light by artist Bruce Munro. Also called the Tili Wiru Tjuta Nyakutjaku 'looking at lots of beautiful lights' in local Pitjantjatjara, this is an incredible display of 50,000 spindles of light covering 7 football fields.
At night, you can feast on local delicacies and cuisines at the Pioneer BBQ and Bar where you can get involved with grilling Aussie meat like emu and Kangaroo.
5. Europe: Starry Skies and Aurora Borealis in Finland
The Northern Lights are a must see. There's no better place to experience the natural phenomena than in the winter wonderland of Finland among the picturesque birch trees covered in snow and glistening lakes that seem to only exist in paintings.
The Aurora Borealis is only visible from August to April when the nights get dark enough to see the majestic light dance in the sky. But during the day, you'll be busy adventurous fun with sled dog touring, cross-country skiing, snowmobiling, and snowshoeing.
We will be sure to plan the perfect itinerary for you. Finland is truly a worthy place to explore with cosmopolitan activities like visiting art galleries and museums in Helsinki, cultural activities to learn more about the Sami people, and of course the breathmust-see-taking nature around you. It's one of the only places you can experience a dark night with a midnight sun.
6. North America: Re-Experience Alaska
There is so much more to Alaska than the cruises leaving Seattle. We want you to throw away any prior thoughts and rethink "The Last Frontier". To truly experience Alaska, you'll want to begin in Anchorage with a photo tour of Denali for a brief taste of what's to come before flying to the shores of Lake Judd and the Tordrillo Mountain Lodge. For the next few days, you'll engage in exciting helicopter-led adventures in the sky as you take in the natural beauty around you, above you, and below you. Next, you'll head to the magnificent Sheldon Chalet located deep in the heart of Denali. This property was rated in 2018 as one of the "World's Greatest Places" and you'll find out why.
At the Sheldon Chalet, you will be 6,000 feet above sea level which allows you access to beautiful views of Ruth Glacier and mountains of Denali National Park & Preserve. Here you can indulge in gourmet cuisine, get active doing guided trekking, sledding, or rappelling. You can also visit the historic Sheldon Mountain House, a sauna with a view of the snow-capped mountains, and a large observation and viewing area to catch the Aurora Borealis.
On your final morning at the chalet, you'll want to make your way to the Sheldon Nunatak before boarding your private helicopter back to Anchorage where you'll then head home.
7. South America: Exploring the Amazon
The Amazon River is a natural beauty of nature, animals, plantation, and fresh air perfect for exploring. Aqua Expeditions offers the Aria Amazon, a custom-built cruise ship that ensures a luxurious and intimate stay with minimal impact on the delicate Amazon ecosystem. This cruise ship offers 16 suites that you can buy out for a truly personal experience, along with the cruise's crew of course.
The amenities on the ship include an outdoor observation deck perfect for taking in the breath-taking sights, a dining room, bar, indoor lounge, and jacuzzi. We recommend a 7-day itinerary to explore Earth's largest rainforest which is the habitat for 20% of all bird species and ⅓ of all recorded animal species in the world.
As you go all of this sightseeing, you're sure to get hungry. You can look forward to a hand-crafted menu of Peruvian cuisine from one of the country's most accomplished chefs.
February 7, 2022