Luxury Safari How your tourism Dollars can make an impact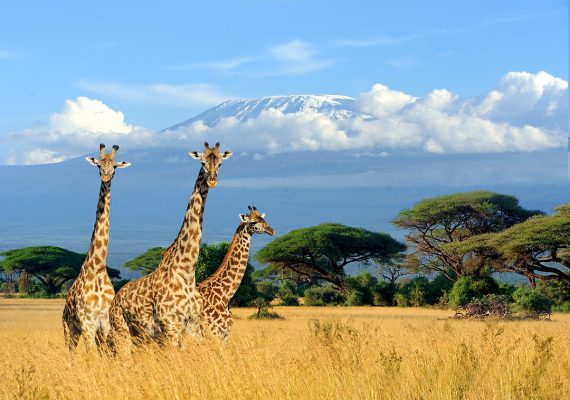 As we move into a more connected and globalized world, every action has an impact somewhere else. Therefore, it is important to us that we think about the impact of our travels on the land we explore and people we meet in the past as well as the impact of where we go and who we meet next. To us, one of our greatest areas of impact occurs during our luxury safari trips.
"Travel for good" is a concept not confined to Africa, but it is where it is exemplified. As more and more African countries reopen their borders, Americans have more countries visit safely and sustainably. These trips to safari are not only COVID conscious as social distancing practices are practically baked in, but also because these trips support the local communities and contribute to conservation.
Many itineraries in Africa include a community visit or explicit voluntourism efforts which is great long-term for giving back to the place that we so enjoy visiting and experiencing. Concurrently, our clients can double their charitable efforts all throughout the trip as well by choosing to stay at a socially responsible lodge where part of the trip is automatically contributing to the long-term sustainable employment of local workers and the production of wildlife.
According to the Sierra Club, in a piece published in 2020, they write, "Each year, safari tourism generates millions of dollars for the Kenyan economy, and these revenues are what have allowed the government and private stakeholders to put an impressive 19 percent of Kenya's land in some form of protected status…These protected lands take the form of a string of state and local authority-run national parks and reserves, including well-known parks such as the Masai Mara, Amboseli, and Tsavo. Protected areas also include a large and ever-growing number of community-run wildlife conservancies."
While each conservancy's operations may differ, the general partnerships include long term inhabitants of wildlife rich regions leasing out the land to safari and conservation groups for a monthly fee. At this point, a conservancy is formed and the environment is managed to allow animals to roam freely while providing jobs and cash flow for local communities. This is what allows tourists to safely and sustainable visit and experience the safari.
However, the COVID-19 pandemic has strained efforts to sustain the conservancy system. With no tourist revenue coming in, the conservancy cannot pay the monthly lease fees to local communities. The devastating impact and burden fall on those communities who lose out on a revenue stream that covers essential costs like schooling and food. Stuart Butler, a journalist who specializes in covering conservation issues said, "The danger is that if tourism doesn't pick up again soon, then local communities will lose faith in the conservancy system and will have little choice but to turn their land over to other uses such as cattle ranching or farming. In that scenario, wild animals will end up being removed from the land."
Another part of the puzzle: Reintroducing endangered species through luxury safari
Apart from conserving the environment, conservancies have begun to focus serious attention and effort into protecting and rewilding endangered species such as mountain gorillas, the black rhino, and the African elephant. Today, it may be hard to imagine that poaching animals for sale on the black market is still around but according to CNBC contributor Verne Maree, she writes, "It's estimated that three rhinos are poached every day in South Africa. In the whole of Africa, an elephant is poached approximately every 15 minutes. With only 18,000 white rhinos and 400,000 elephants left in Africa, in 20 years' time at current rates, both animals will be completely gone." Many conservation groups and NGOs have focused their attention to combat poaching and one country has seen considerable success, Rwanda.
Rwanda and the Big 5
Part of the reason that conservancy is so important is because it builds on itself and exponentially benefits those that it touches. A conservancy is funded through tourists who come to see the natural wonders of the world. That money then goes towards conservation efforts that pay for long term employment to positively benefit the local community and help sustain and reintroduce endangered populations to the wild. All of this comes full circle as these animals will then attract even more tourists and thus funding.
Rwanda has multiple conservancies that have seen great success in the area. The Volcanoes National Park has successfully cared for a number of gorilla families with the help of Gorilla Doctors. And even more impressively, the Akagera National Park has been able to reintroduce rhino and lion back into the environment to complete the Big 5, lion, leopard, rhinoceros, elephant, and buffalo, something that hasn't been done in 20 years. Additionally, the area is also home to the highest density of hippos in Africa and crocodiles. As if that's not enough, they also provide a home for the rare sitatunga, a swamp dwelling antelope, and over 520 different bored species.
A trip here for visitors is truly a treasure trove of sights and nature that was made possible by Rwanda's sustainable tourism practices. National Geographic's Heather Greenwood Davis writes, "For travellers, Rwanda's sustainable tourism practices coupled with the diversity of boring wildlife in the national parks delivers a variety of options for their safari experience. And it means that no matter which encounters tourists choose to conquer on their bucket lists, they can do so with a clear conscience knowing that their visit is just one part of a country-wide commitment to conservation and sustainable tourism. Here, profits from tourism go directly back into the communities through schools and clinics…As a country, they've made a commitment that conservation is one of the tent poles of their future economic and social prosperity that they want to promote, and they seem to be doing it in a real, honest and genuine way that's pushing the right number of resources to the right people and the right places."
Wildlife Tourism Supports Local Economies
Luxury safari has wide reached impacts in the hospitality landscape that lifts communities and is essential for sustaining and nurturing a dynamic, resilient local economy. From the moment you step foot in Africa, it is so easy to provide genuine tangible benefits and according to Andrea Athanas, the Program Design Director at African Wildlife Foundations, "Wildlife tourism provides 23 million jobs in Africa". It is so easy for guests to customize their trips to have the greatest impact as possible by complementing their stay in safari lodges with a stay in city hotels like The Silo or Ellerman House, which is part of a family-owned Royal Portfolio that considers all team members part of the family. These properties have hosted fundraisers and virtual concerts as they highlighted staff stories throughout the pandemic.
Additionally, Singita, one of our preferred luxury safari partners, also embraces their 100 Year Purpose which focuses on preserving and protecting African wilderness for future generations. They hire locally to work at each other fifteen lodges in their portfolio across 4 countries Rwanda, Tanzania, Zimbabwe, and South Africa. Even through the COVID-19 pandemic they have continued to work on their Purpose through their Talent Development Programme which mentors young talent and the Singita Academy which provides education and information on career advancement. They have continued to invest in improving their hospitality and training their teams as they prepare for future guests' returns. What makes Singita so special is not only the professionalism and quality of their staff but also the genuine experiences and ownership each and every member of the team feels which get shared with their guests.
According to a September 2020 employment study shared with SmartFlyer, "Singita found that in their lodges covering Kruger National Park–Singita Lebombo and Singita Sweni, 81% of employees are 'hyper-local,' meaning they come from the immediate villages surrounding the lodges." This truly exemplifies the impact guests have on the surrounding communities. Without travel, many employees don't earn income which gets transferred and reinvested to their families who depend on it. Jennifer Billok writes this in the Smithsonian Magazine, "They're supporting themselves, they're supporting their parents, they're supporting their sister's kids, they're supporting their other sister's kids. There's a rule of thumb in Africa that if you're able to support one person in the community financially, ten people are benefitting because that's just how they are cultural. [About] 80 percent of the jobs and the income of these communities comes from reserves."
Ultimately the bottom line is this, when you think about your next trip, consider the luxury safari and its far-reaching impacts on the broader environment and economy. As you help to fund conservation efforts, you are also helping to create employment opportunities in the hospitality sector. A luxury safari is way more than a bucket list item to just experience, it is also a way to give back. So, when you're considering your next trip, be sure to think of a luxury safari as not only a personally enriching experience but one that has an impact far beyond your stay.
February 7, 2022